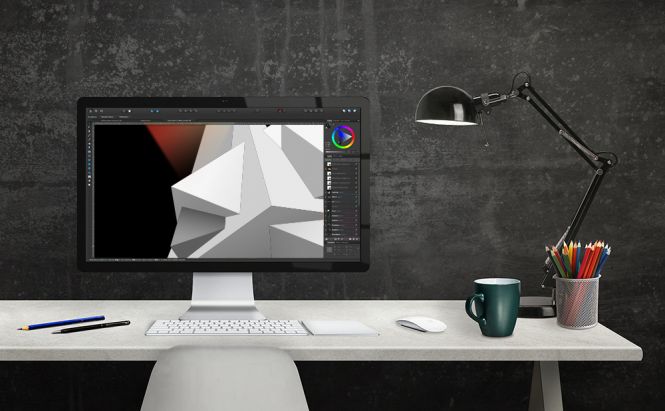 Top 5 graphic design apps for macOS
Graphic design apps are of crucial importance whenever you want to create high-quality visual content that is ready for printing and distributing on social media.
These applications come in handy if you want to design vector graphics, including logos, icons and artwork, and adjust RGB, HSB and CMYK colors. Read the article and pick up the app best suited for your creative needs.
Inkscape
At first, pay attention to Inkscape, one of the best free and open-source graphic design apps for designers of all kinds. The latest version is compatible with macOS 10.11 and higher as well as Windows and Linux. You have to install and configure XQuartz first before setting up Inkscape.
The graphic design app provides a wide range of extensions to enhance its current functionality. Furthermore, Inkscape offers text support, a color selector (RGB, HSL, CMYK, color wheel, CMS), fill and stroke, and rendering options.
Inkscape
Highlights
It boasts object creation and object manipulation tools, including Transformations, Clones, Object Grouping, Layers and Z-order options.
The app allows for importing CorelDRAW files.
Moreover, it enables you to create and edit SVG files.
Sadly, the app may work slowly and it can take time to process your graphics.
Sketch
This is a great vector editor that has been purely developed for Mac. It's a decent pick in case you need to create slick user interfaces, design icons and other on-screen elements for app and website interfaces. You can use the 30-day trial of Sketch, then you have to pay $9 per month.
Sketch features pixel-level precision tools that enable you to zoom to the pixel level, adjust layers and align elements. Also, you get access to a number of plugins, select among emojis and Variable and OpenType fonts, create animations, and test your designs.
Sketch
Highlights
Sketch lets you choose among a wide range of customizable grids, presets, and artboards.
Make use of

math operators and apply color variables and layer styles.

Take full control over all processes within Components View.
Collaborate with colleagues and sync libraries.
Affinity Designer
It's another decent tool for professional designers, illustrators and game developers to create concept artwork, UI elements, mock-ups, icons, logos, and print graphics. Affinity Designer runs on macOS 10.9 and newer, Windows 7 and higher and iOS 12-based iPad. The trial is available for 30 days, the full version costs $54.99.
This app provides layer support and raster and vector tools and it allows you to apply color tagging and layer groups, and deal with 1000s of objects without lagging. In addition, you can customize tool palettes, match attributes, switch between tasks, and choose a type of objects for further editing.
Affinity Designer
Highlights
Process your graphics fast, pan and zoom

at 60fps.

Apply its impressive precision drawing zoom.

Export and import files in PSD, AI, SVG, and EXR formats.
Get fast access to unlimited artboards, effects, and l

ive gradients.

Preview blend mode, transformations and curve edits in real time.
CorelDRAW Graphics Suite
CorelDraw is a suite of professional tools to create illustrations, edit layouts, enhance photos, and apply vector-based effects. It's an ideal match for designers in advertising and publishing as well as in producing marketing materials, and whatever. CorelDRAW Graphics Suite is a cross-platform app that flawlessly works on macOS 10.15 and newer, Windows 10+ and you can use it on the web. Apply the trial version for 30 days free of charge, then pay $34.99 per month.
The app enables you to choose from a number of built-in templates, apply precision tools and create vector drawings in 1, 2 or 3-point perspective. Also, it allows moving objects across pages, comparing designs, replacing colors, and removing imperfections. Furthermore, get direct access to over 1000 Google Fonts families, take control over the transparency of your objects and get them filled with interesting patterns and mesh fills.
Highlights
Handle web graphics.

Design projects with multipage layouts.

Customize vector effects.
Search your images as thumbnails.
Apply color swatches.
Improve your photos with AI.
Collaborate and share your projects with your team.
Adobe Illustrator
That's the legendary application that enables you to work with raster graphics, share your projects and collaborate with your teammates. Adobe Illustrator is designed for both common users and professional artists and designers. The app is available for Windows 10 and macOS 10.15 Catalina and above. The app is a part of Adobe Creative Cloud, the developer provides a 7-day trial, then you have to pay $20.99 per month for the subscription.
Exploit its definite advantages to import and handle CorelDRAW files, apply the impressive range of filters, brushes and layers as well as integrate your outcomes into Photoshop, InDesign and other Adobe solutions. Moreover, Adobe Illustrator makes it easy to draw sketches and doodles, design logos and web graphics, and so on. Also, you get fast access to Adobe Stock which is a huge library of 60 million high-quality stock content.
Adobe Illustrator
Highlights
Add 3D effects and apply lightning, extrude and rotate your graphics.
Use textures with realistic effects.
Write and share comments with colleagues.
Integrate outcome projects into other Adobe products for further editing.
Access Adobe Stock.
Simultaneously change text attributes of many objects.
Process CorelDRAW, HEIF and WebP formats.
Blend and vectorize your objects, and transform their shapes.
You can try all these graphics design applications for free and check which one you like best.