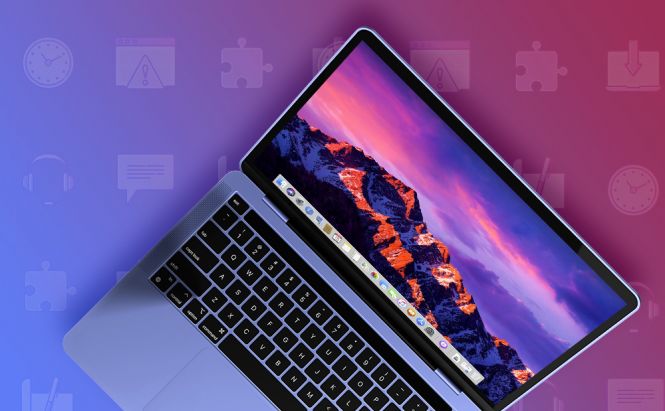 Top 5 Free macOS Apps To Simplify Your Life
Of course, macOS is stable and highly efficient. At the same time, Apple computers sometimes seem to be incomplete and lack some important functionality. The company is stubborn enough and doesn't want to add some simple options. Fortunately, third-party apps can come in handy and solve all the issues. We're glad to present you with top 5 free macOS applications that will simplify your everyday life.
1. LibreOffice
Spreadsheet editor
First, pay your attention to this full-featured suite of productivity and business apps. LibreOffice is a successor to well-known OpenOffice and it's a decent alternative to Mac's default business suite and commercial Microsoft Office. It includes a number of useful tools, namely Writer (text processor), Calc (spreadsheet manager), Impress (presentation maker), Draw (vector graphics and flowchart designer), Base (database creator), and Math (formula editor).
LibreOffice is a nice pick as it provides a wide range of powerful style systems and structuring tools. Moreover, it's compatible with Microsoft file formats. That's why you can get fast access and manage your DOC, XLS, and PPT files. Besides, you can save your documents as ODF or PDF.
2. Alfred
Clipboard manager
Secondly, take a look at Alfred that is an award-winning macOS application and a decent alternative to the built-in search tool on your Mac. Alfred allows you to automate repetitive tasks and enables you to easily search your Mac, find and preview files and launch apps. For that, just create custom hotkeys and keywords, generate shortcuts for your apps and folders, and make use of your Clipboard History to find any item you copied before and paste it again.
Moreover, you're able to save your time by creating unique snippets and typing a short abbreviation that will be auto-expanded into a full text. Furthermore, you can import or build your own workflows by linking hotkeys and keywords.
3. Bitwarden
Create powerful passwords
Now, it's high time to protect your sensitive data and securely share it with other users. For that, download Bitwarden that is designed to generate and manage unique passwords as well as secure your online data. The app is based on HIPAA, GDPR Privacy Shield, CCPA, and SOC 2 security standards.
Take into account that it applies AES-256 bit encryption, salted hashing, and PBKDF2 SHA-256 to lock your private information.
Bitwarden provides a semi-automated password fill-in tool. It means that the app's browser icon will show you all the saved credentials from websites you logged in. Thus, you can easily switch between different usernames.
4. Amphetamine
Keep your Mac awake
Then, make use of Amphetamine to keep your Mac screen and external displays awake for certain tasks. Just click to launch keep-awake sessions and prevent your device from going to sleep mode when you download files or use certain apps. Also, you can generate triggers to automate all events when your Mac should be awake, even if your display is closed. Besides, set the display time, and enable or disable your screensaver activation, your system sleep and mouse cursor movements.
In addition, you can customize status images, select notification sounds, and configure special alarms not to forget that your computer is awake. Also, you're able to prevent sleeping mode when the content of your display is mirrored, when your USB and Bluetooth devices are connected or when your Mac works on specific WiFi networks.
5. ApolloOne
View photos
Last but not least, you can turn your mind to ApolloOne. This app enables you to view photos at 26fps as well as edit their metadata and keywords. You can instantly preview RAW files and perform simple adjustments in batch mode, there's no need to import them into databases since the app is capable of working with the existing folder structure.
Moreover, this powerful image editor allows you to automatically organize your photos, maximize your image display area, and superimpose camera AF points. Additionally, ApolloOne provides a number of EXIF tools and native support for Intel and Apple M1 Macs and lets you view slideshows with iTunes music playback.
Download these free apps, boost your Mac experience and simplify your everyday life!