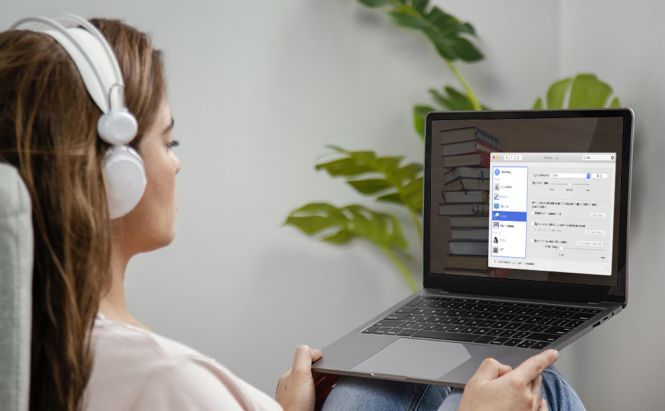 Make Your Mac Speak Text From The Screen
Have your Mac speak what's happening on your screen whenever your eyes are too tired or you have another trouble reading the text on your device running Big Sur. Choose among Text to Speech and VoiceOver options to make Mac read out all lengthy documents in a quite natural voice.
Just read our article to get some simple tips and tricks on how to enable and personalize these features.
Text to Speech
This accessibility feature is designed to transform onscreen text to spoken words. It's an ideal choice in case you listen better than read or in case you need to proofread your text and check if it needs another polish before submitting. Bear in mind that this option is available for the previous macOS versions as well.
Text-to-speech
First, configure this option and customize it to your special needs.
Go to Accessibility System Preferences from the Apple menu, dock, Launchpad or Applications folder > press the Accessibility icon > choose Spoken Content from the left.

Select a male or female voice from the System Voice pop-up menu. Take into account that you can play it and check whether it's OK for you.

Moreover, you can change the speed of the voice by using the Speaking Rate slider. Play the voice and decide if you want to slow it down or speed it up.
After all the changes are applied and you're happy with the voice, copy your text to the Clipboard, open TextEdit or Pages, paste it into a new document and just choose where you want your machine to begin reading to you. Then, select Edit >  Speech  > Start Speaking. To finish, click Stop Speaking.
How to make your Mac read different notifications and other text as well?
It's so simple!
Choose the Speak Announcements check box to make your device read out the text from alert boxes and dialogues.
Hear only selected text by ticking the Speak Selection check box or using the default keyboard shortcut Option+Esc that can be also customized (just click the Options and type any key combo).
To listen to the text below the pointer, select the Speak Items Under Pointer check box.
If you want to hear whatever you type, choose the Speak Typing Feedback check box.
VoiceOver
Customize VoiceOver
Although this technology has been originally designed for the visually impaired, it can still come to your assistance even if you have excellent eyesight.
This option allows you to hear everything what's happening on your screen. Besides that, the technology integrates with your keyboard and enables you to navigate around the screen until you find the text you're looking for.
In addition, you can use Keyboard Access and just press a key button to choose list items, radio buttons, and check boxes, resize windows, and move scroll bars and sliders.
To enable or disable VoiceOver, go to the System Preferences > press the Accessibility icon > click VoiceOver. Alternatively, try the shortcut Command+F5 or Command+Fn+F5.
VoiceOver Utility
How to customize VoiceOver?
Just apply the VoiceOver Utility by double-clicking the icon from the Utilities folder or by choosing the corresponding button from Accessibility System Preferences. This utility allows you to alter the voice, its volume, rate, pitch, its verbosity and other parameters, as well as it lets you indicate how it deals with your keyboard and mouse.
These accessibility features are of crucial importance as they are designed to simplify your life and save your eyesight. Give them a try and check out whether they work for you.