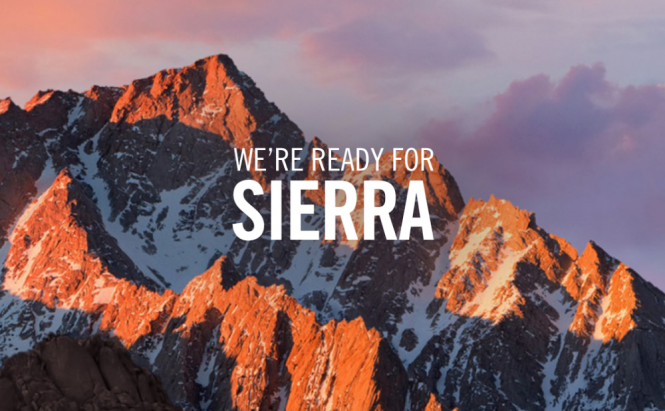 Update your Mac to OS Sierra
It's been over half a year since Apple first announced MacOS Sierra and the company's latest operating system has been performing quite well in its first months of existence. In case you're someone who's still on the fence about upgrading to Sierra or if you're already considering it, here you will find a short guide showing you what you need to install the operating system, how to prepare your Mac for the process and how to set up MacOS Sierra.
What do I need?
Unfortunately, if you have a really old Mac, Apple's latest operating system may not work on it. The IT giant published a list with all the compatible devices, but you may still be able to install it on a Mac that isn't listed as long as you have at least 2 (preferably 4) GB of RAM. Additionally, you will also need 8.8 GB of free storage space, an Apple ID and you also have to be running at least OS X 10.7.5 (otherwise you're going to need to purchase a copy of Snow Leopard from Apple).
What if something happens?
In my experience, updating to MacOS Sierra is a pretty risk-free process, but you can never be too cautious. This is why, it's best to back up your Mac before installing the new operating system. Additionally, you may also want to ensure that your device is virus-free before setting up Sierra. Lastly, I also recommend setting up an iCloud account in case you don't already have one as well as updating your software and third-party devices to the latest versions previous to the installation.
How do I install MacOS Sierra?
Now that everything is in order, we can go on with the update. All you need to do is to launch the App Store, look for MacOS Sierra and download it. You may also be asked to provide your Apple ID before the download; you should go ahead and do that. Once the download process is completed, a prompt will automatically appear on your screen asking if you want to start installing the operating system. Simply, follow the steps indicated by the wizard and after a process that takes about half an hour, your Mac will be updated to MacOS Sierra.
In case you need to install Sierra on an external hard disk or on a different partition, first connect the external drive to your Mac and launch the Disk Utility. Now, from the sidebar, select the drive where you want to install the operating system, then click on Partition and make sure that the Partition Layout field says 1 Partition. Next, go to Options and make sure that the Guide Partition Table is selected, then click Apply and follow the steps from before to download the Sierra installer. Start the installation process, click Continue then Agree and Agree again and now you will see a button named Show All Disks. Click it, select the drive that you wanted, then go through with the installation and you're done.
In case you want my advice, if your Mac supports the latest operating system, then there's no reason for you not to update as there are quite a few interesting new features in MacOS Sierra.