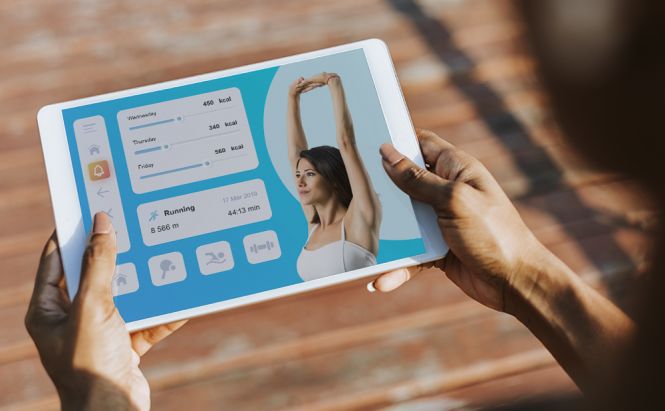 5 Free macOS Apps For Your Health
You are so busy nowadays but it's still important to find time, have a break and take care of your physical and mental health.
If you are determined to take quick and efficient steps, you may like our collection of free wellness apps that will help you focus on different exercises.
These health apps are free of charge, download them on your Mac and get ready to feel good.
1. Breath Ball
Breathe to ease your stress
This app provides breathing exercises to tackle stress and enhance the quality of your life.
It will help you catch a breath, keep calm, meditate and reach deep relaxation within some minutes. It's so simple, just take three steps.
Find 5-10 minutes to relax and sit back.
Breathe with the rhythm of the Breath Ball by deeply inhaling into your belly when the ball becomes bigger and holding your breath when the ball doesn't change its size.
Exhale when the ball becomes smaller.
You can choose among three breathing techniques of Breath Ball and select either you want to relax, ease stress or overcome sleeplessness.
Moreover, you can switch on the audio guide and have a rest with closed eyes. Besides, hide all distractions within the user interface to stay calm and meditate.
2.
BeFit Tracker
Keep track of your calories
To stay healthy, it's essentially important to keep track of your food. BeFit allows you to effortlessly monitor what you're eating as well as calculate calories.
The app shows useful food data, including
over 7000 nutrition facts,
percent daily value for food portions,
caloric details for over 5000 food items.
This way, you'll be aware of nutrient levels and be able to manage your caloric intake per day, week or month. Besides, you can check and manage your custom tracking lists.
Moreover, BeFit provides a BMI (Body Mass Index) calculator and enables you to set your wellness goals, keep track of how to achieve them, view your progress, and compare it with your auto-recommendations.
3. Blood Pressure Management
View statistics
This is a very simple tool that enables you to regularly monitor your blood pressure and keep track of these readings.
Blood Pressure Management allows you to record a number of parameters, view statistics, and print and share the data with your doctor in order to detect patterns and possible dangers as well as find appropriate medical solutions.
Here you can indicate the following readings:
start and end date,
average systolic and diastolic pressure,
lowest, highest and expected parameters.
4. Daily Ab Workout Lite
Working out
Now, it's high time to have a break and work out. Daily Ab Workout Lite is your personal trainer and an ideal app for targeted exercise routine.
The application provides 10 videos of ab-sculpting exercises that are designed to strengthen major abdominal muscles. Take into account that every workout session takes just 5-10 minutes to finish and exercising regularly helps you keep a healthy weight and lower the risk of some diseases.
Among the most useful features, you'll encounter
videos that demonstrate how to do every exercise,
short sessions developed by professional personal trainers,
built-in timer and on-screen instructions.
5. Simon Says
Don't forget about breaks
Short bursts of regular movement and physical activity are so important for your health. However, you can be often so busy and forget to take a break. Simon Says will change this situation and it will inform you that it's high time to stand up and do some exercising.
The app enables you to tackle the so-called sitting disease and it will inspire you to move during a day. Simon Says allows for configuring the settings to your needs and calculating a set of exercises based on your age, gender and fitness level.
This simple app features several useful options:
The screen will be faded during a break.
The challenge can be skipped in case you don't want to take it up.
The reminder can be snoozed if you are busy.
Also, you can monitor your daily progress and change the period of time between your breaks.
Bear in mind that you have to be physically active to live a long and happy life. Check out these apps and share the best free apps for your health with us.