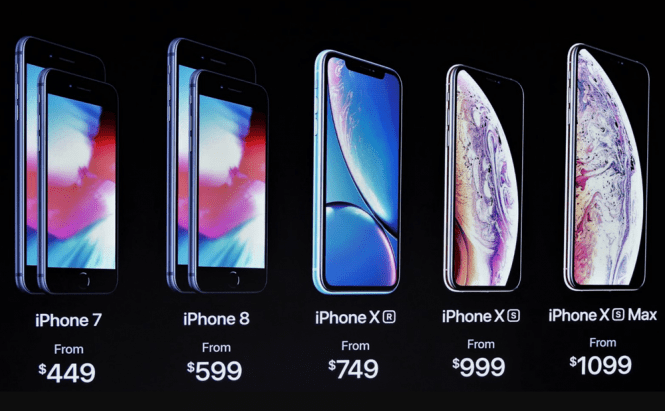 Apple launches three new phones: iPhone XR, XS and XS Max
Apple's September event has recently concluded and, following tradition, the company has just launched its newest iPhone models. However, unlike in the previous years when the 5C or SE editions where launched, this time, the cheaper (if you can call it that) version of the iPhone no longer stands out from the rest of the pack through its looks. In case you were curious, here's everything that you need to know about Apple's iPhone XS, iPhone XS Max and iPhone XR.
iPhone XS and XS Max
iPhone XS and XS Max
The iPhone XS and XS Max are basically the same phones, being differentiated only by their sizes and prices. The smaller, 5.8-inch model starts at $999 while the second 6.5-inch one has a price tag of at least $1.099. Under the hood, you will find an A12 Bionic chip that promises to be 30% faster than 2017 models. Additionally, there are three storage options 64 GB, 128 GB, and 512 GB. On the backside, you will notice a dual camera featuring 12 MP with telephoto lenses, while on the front there's a 7 MP camera. Additional features include three colors to choose from (Gold, Space Grey and Silver), Super Retina displays, dual SIMs support, 3D Touchscreens, faster Face ID unlocking, and stereo sound. The phones are powered by iOS 12.
iPhone XR
iPhone XR
The iPhone XR features a 6.1-inch aluminum body with a single 12 MP camera on the back and a 7 MP camera on the front. Inside, there's the same A12 Bionic chip as in the XS models and there are three storage options available: 64GB, 128 GB and 265 GB. The phone's price starts at $749 and is available in black, white, coral, blue and Product Red. However, the iPhone XR doesn't have a 3D Touch feature, but the FaceID system is the same as in the XS versions.
The iPhone XS and XS Max can be preordered starting tomorrow, September 14th and go on sale on September 21st, while preorders for the XR edition start on October 19th and sales begin on October 26th. Hopefully, Apple's new devices will be as successful as last year's iPhone X.