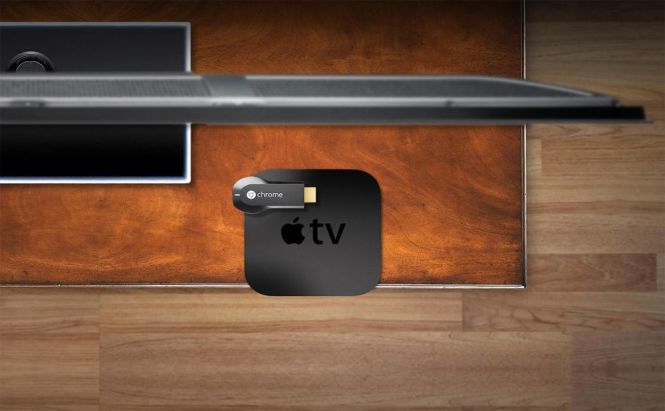 Google Chromecast vs Apple TV
The battle between Apple and Google goes on, and this time the playing field is streaming devices. Though such a device is seemingly segregated from other smart- devices like phones and tablets, the technology itself implies having one. I am pretty sure we'll see some changes and improvements on both devices as well as many other rivals popping up on the market, but here's a quick overview of what you can do with Chromecast or Apple TV.
The Price
Let's start off with the price to give you an idea upfront. Chromecast is fairly cheaper than the rival and will set you back as little as $35, whereas Apple TV (3rd gen.) goes for $99. The price difference comes partly from the fact that with Google Chromecast you only get a small thingy that you plug into HDMI port of your TV, but with Apple you get a remote controller as well. However, HDMI cable is not included when you purchase an Apple TV; with Chromecast you get a wall charger or you can simply charge it via a USB port on your TV.
Compatibility
Quite obviously, Apple TV is meant to be used with other Apple products: the iPhone, iPad, Macbook Pro etc. And it's no wonder that the device is working flawlessly in that capacity, so if you are a big Apple fan - I can't see why you wouldn't choose Apple TV over Chromecast. But read on, some aspects might just change your mind.
Chromecast, on the other hand, can be used with many devices including PCs, laptops running Windows/Mac OS X, Android devices, and Apple devices. That is pretty neat, and if you only need the device for hangouts with your friends or TV watching with your family, it might be a good idea to not have restrictions as to what devices can be used - let everyone have their turn to share some media.
Output Quality
1080p (Full HD) is supported in both Chromecast and Apple TV, so there's nothing to help you with settling for something here.
Streaming Content
There is a palpable difference between the two when it comes to the way the content is streamed.
Streaming via Chromecast
Chromecast streams stuff from the cloud, your device being a simple "middle man" that sends links to it (simply put!). E.g., when you watch a Youtube video, it doesn't really go to your mobile first and then gets re-directed onto the screen via WiFi. It immediately goes to your TV. At times it's annoying that you have to manually "inform" Chromecast that you don't want to keep watching the video it's playing, even though you turned it off on your phone or tablet.
Apple TV doesn't work like that, and the middle man (the device you're using it with) plays an important role.
Apple TV Streaming
This core difference makes Apple TV a little more advanced in that regard, because you can stream the whole screen of, say, your iPhone onto your TV, it doesn't have to be a video or photo. That's where Chromecast is still behind, however(!), not everyone knows that you can do the same thing with Google's streaming device through a (yet) experimental feature, there're plenty of manuals and how-to's on the Web.
Remote Control
As I mentioned earlier, you get a remote controller with Apple TV. Chromecast leaves the controls to the device you're using it with, be it a tablet, phone or PC.
Apps
Undoubtedly, that's where Apple TV is way ahead of Chromecast at this very moment. However, Chromecast is still new and a number of developers are planning to launch their apps soon.
Apps: Apple TV vs Chromecast
Chromecast gives you access to specific TV content via Netflix, Youtube, Play Movies & TV and Play Music.
Your options with Apple TV are way richer: Netflix, Hulu Plus, HBO Go, YouTube and the content from your iTunes including Podcasts and Radio. There's a plethora of apps for kids as well.