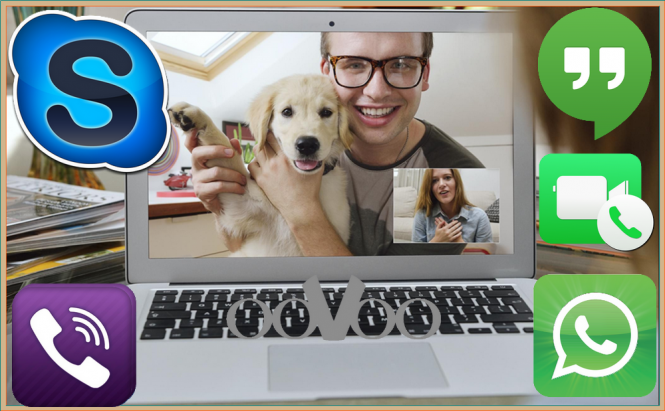 Best free Skype alternatives in 2018
Microsoft's Skype has been around for a very long time, so it's no surprise that it's one of the most used communication services in the entire world. However, being very popular doesn't make it the best service available or even irreplaceable. In fact, when it comes to instant messaging, voice calls and video calls, Mac users have quite a large number of options to choose from. In case you're not a fan of Microsoft's application, here are the best free Skype alternatives in 2018.
FaceTime
FaceTime
If you're trying to communicate with people who also have a Mac or an iPhone, FaceTime is the one of the most easily available solution that you've got. The service provides excellent audio as well as video calls and all you need to use it is your AppleID. As far as advantages go, the application also supports text as well as voice messages and protects your privacy using end-to-end encryption. Unfortunately, there are also a lot of drawbacks such the lack of group video calling option and the inability to use FaceTime on anything other than Apple-made devices.
WhatsApp
WhatsApp
Another really popular communication service, WhatsApp is available on all the major platforms, which means you'll be able to talk to your friends no matter what type of device they have. The application includes voice and video calling capabilities, text and voice messaging abilities as well as the possibility to transfer various files such as GIFs, videos and other media files. Group communication is also possible. As far as downsides go, you need a working phone number to use the service and there's a size limit to the files you transfer.
Viber
Viber
Even though not as popular as it once was, Viber is still a solid Skype alternative especially when it comes to free video calls. This tool works on pretty much every platform you can think off, includes video calls, voice calls, text messages, voice messages capabilities as well as group communication with up to 250 people at once and embeds emojis, stickers as well as other features that embellish your communications. Lastly, the users can share media files during their conversations.
Google Hangouts
Google Hangouts
Initially named Google Talk, Hangouts is another service that seems to have been around since the beginning of the Internet communication era. Besides having numerous clients available, each with their own flavor, Hangouts works directly from your browser, and only requires a Google ID to register. It works on every platform, supports text, voice as well as video conversations, includes file-sharing abilities and works in group chats of up to 10 people. As far as downsides go, Hangouts doesn't have the best emojis in the world and, when used from the browser, it can be a little taxing on older devices.
OOvOO
OOvOO
Finally, OOvOO is an underrated communication service for its capabilities. The tool can sync your contacts from Facebook or WhatsApp and also includes screen-sharing capabilities. Of course, it also offers all the regular stuff such as audio and video chatting, texting and sharing images, GIFs or other files. Group chats can include as many as 12 people and all your communications are encrypted for privacy reasons.
As I said, there are quite a few communication services available on Mac, so if you don't like any of these Skype alternatives, there are many others that you can find. Nevertheless, if you're looking to communicate sensitive data, you might want to take a look at the most secure instant messengers currently available.