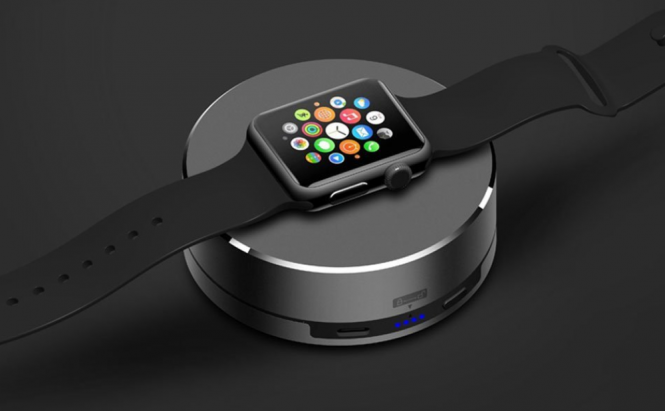 Wireless power bank chargers for the Apple Watch
Those who own an Apple Watch are probably already annoyed by the fact that the IT giant is forcing them to only buy wireless chargers that it approves. Since Apple's own wireless charging device costs $79, one can understand why the company doesn't want people to get cheap power banks from third-parties, but it's not great for the customer. In case you want a wireless power bank charger for Apple Watch, here are a couple of interesting alternatives.
Ugreen
The Ugreen Wireless Magnetic Power Bank Charger is an MFI certified device that has recently appeared on the market. This power bank embeds a magnetic charger module, which automatically aligns the in-built wireless connector with your Apple Watch, thus being able to effectively perform its inductive charging function. The gadget features a 2200 mAh lithium battery that allows it to recharge your watch from zero to full three or four times. There's a LED indicator that shows Ugreen's current remaining capacity, so you'll know when it's time to recharge it.
Ugreen
The Ugreen Wireless Magnetic Power Bank Charger works with all the Apple Watch versions and is very small, thus allowing you to easily fit it in any bag you may be carrying. Additionally, the device also has a USB port that allows you to charge your phone along with your watch. As far as the price tag goes, Ugreen is a bit cheaper than Apple's charger, costing around $60 and there's also a pretty good chance that you can find it on sale if you know where to look.
Boostcase BLOC
Another valid alternative is Boostcases's BLOC Wireless Dock for Apple Watch. This power bank is available in three colors, is made from anodized aluminum & natural bamboo wood and looks a lot more elegant than Ugreen, but is also more expensive with a price tag set at $79 on its official website. Since we're already talking about the design, you should also know that BLOC is a very well thought out device that even includes a special space for the charger embedded in the back of the device.
BLOC
As far as technical specifications go, the gadget features a 2,000mAh battery that will allow you to fully recharge your Apple Watch four times. The usage is also very simple: as you can see in the image, BLOC has a round indentation in its center; simply place your watch in it and wait for the charging cycle to complete.
Now that you've seen a few alternative wireless devices for charging your Apple Watch, you may also be in reading some of our older stories such as: "Apple Watch 'theater mode' makes movie-going less annoying", "Best third-party apps for the Apple Watch" or "Use your finger to answer a phone call".